101 Things To Do on Kodiak Island
A multitude of creatures and plethora of sights to see.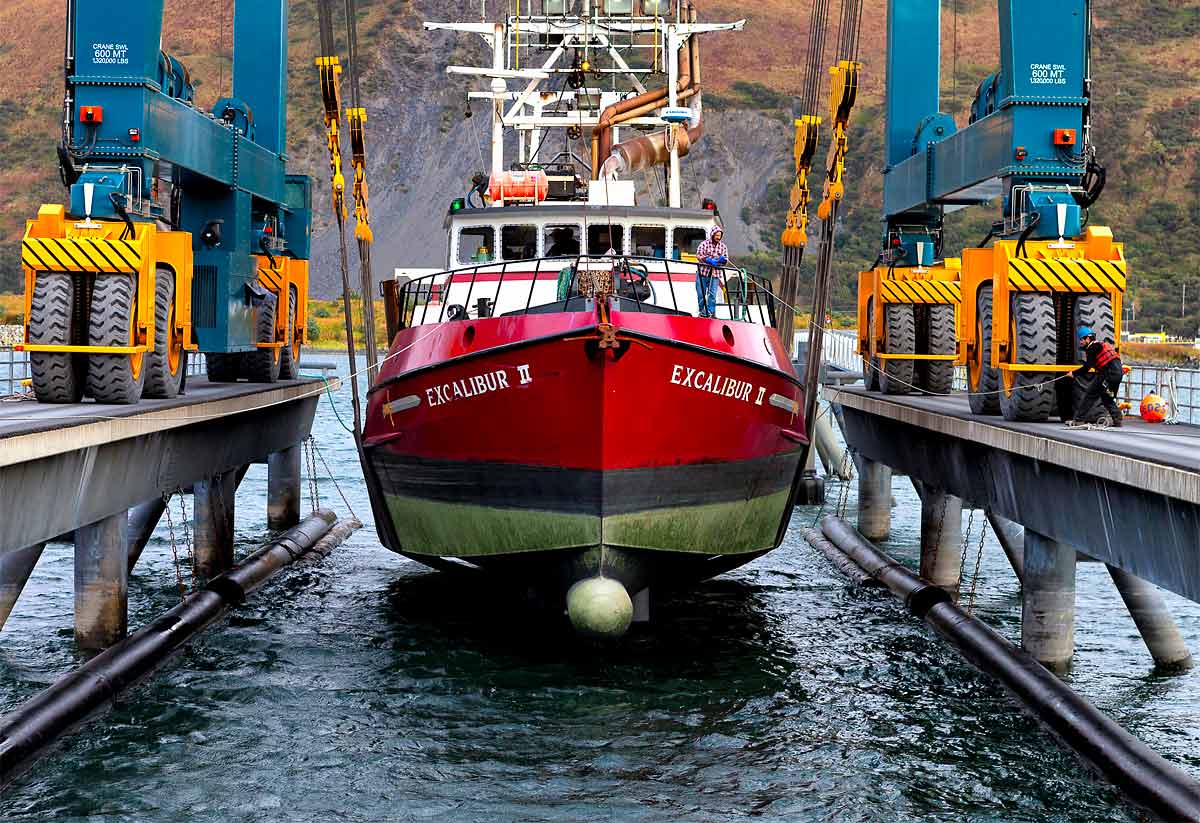 Go on a Kodiak Audubon Society hike (weekends during the summer)
Learn about the 1964 earthquake and tsunami at the Baranov Museum
Buy fresh veggies at the Saturday Farmer's Market
Count puffins
Walk the docks in St. Herman and St. Paul harbors
Go bear viewing with Sea Hawk Air
Find real nautical stuff, books, and fun gifts at Kodiak Marine Supply
Go salmon or halibut fishing
See a gray whale skeleton and Marion's photographs on display at the Kodiak National Wildlife Visitor Center
Count eagles
Go tidepooling at Fort Abercrombie State Historical Park
Go on an Audubon-sponsored hike on weekends
Go berry picking
Experience local culture at the Alutiiq Museum
Discover Kodiak's beautiful wildflowers
Take the kids to the "touch tank" at the Fisheries Research Center on Near Island
Go bird watching
Go skiing, sledding or snowboarding
Go fly fishing on a river
Experience the coast from a sea kayak
Golf at Bear Valley Golf Course
Fly a kite in a park or at the beach
Discover Russian and local history at the Baranov Museum
See Native art and artifacts at the Alutiiq Museum
Get cancelled (mail a post card) at the post office
You can always go bowling at the Tropic Lanes
Go whale watching
Learn all about brown bears at the Kodiak National Wildlife Visitor Center
Go ice skating at the covered rink (winter only)
Walk or drive up Pillar Mountain for a beautiful, 360-degree view
Drive to Fossil Beach (past Pasagshak) to find 15 million year old fossils
Visit the Kodiak Military History Museum in Fort Abercrombie
Hike North End Park on Near Island
Rent a bike at 58 Degrees North
Play tennis
Look for sea lions in the boat harbors
Pull over at the scenic view at Dead Man's curve
Visit Kodiak College, in a lovely spruce forest setting
Drive to Anton Larsen Bay, a mountain-rimmed fiord
Watch the Alaska Marine Highway System ferry come and go
Watch a container ship offload goods at Pier III
Attend a service club meeting: Lions, Rotary, and more
Step inside the Holy Resurrection Russian Orthodox Cathedral
Discover coffee, treats and icons at Monk's Rock Coffee House
Eat world-class sushi at the Old Powerhouse Restaurant
Bite a burger at Henry's Great Alaskan Restaurant
Photograph bison roaming around Narrow Cape
Tune into, and check out, the community calendar public radio at KMXT 100.1 FM
Go on a flightseeing tour
Take a photography workshop
Look for your favorite Deadliest Catch boat
Appreciate local art at Fly-By Coffee
Pack a picnic lunch and go for a hike, walk or drive
Take home local seafood from Island Seafoods
Visit the organic gardens at the Cliff House B&B
Find great fabric at the quilt shop
Get fine threads at the Rookery yarn shop downtown
Sample local micro brews at Kodiak Island Brewery
Build a sand castle
Visit an art gallery
Buy tasty smoked salmon from Kodiak Island Smokehouse
Work out at the friendly Kodiak Athletic Club
Watch boats come and go in Near Island channel
Take the Alaska Marine Highway System (ferry)
Stay at a remote lodge
Listen to Island Byways on the radio
Watch the surfers and "spongers" at surfer beach
Search for beach glass
Sample locally roasted coffee
Visit our new, beautiful public library
Tune in to public radio KMXT 100.1 FM
Participate in an Island Trails Network project
Have your appendix removed at Providence Kodiak Island Medical Center
Get inspired to garden at Strawberry Fields Nursery
Visit a local cemetery
cookies and coffee at Java Flats
Find bargains at the Salvation Army's thrift store
Find deals at Saturday garage sales
Get sticker shock at Safeway
Romp at a local playground or park
Recycle at Threshold Recycling Center
Pick up a Visitor Guide at "Discover Kodiak" visitor center
Walk across the Near Island Bridge for the best view of the City of Kodiak
See original local art, prints and crafts at Northern Exposure Gallery
Go stargazing
Look for northern lights
Go deer hunting
Pick up local fishing tips and gear at Mack's Sport Shop
Stroll, walk or ride on the bike path
Attend the Kodiak Crab Festival on Memorial Day weekend
Stay at a remote cabin on the Kodiak National Wildlife Refuge
Go to a movie at the Orpheum Theater
Catch a snowflake on your tongue
Photograph a sunrise and sunset
Kodiak Local Newspaper
Visit Us in Kodiak
A visit to Kodiak endears you with bragging rights! We invite you to experience what many people say when they come here: "Wow, this is real Alaska!" If you enjoy hiking, sipping a latte or micro-brew beer, kayaking, bear viewing, gardening (how do you grow stuff in Alaska, anyway?), discovering local art, reading a good book on the beach, or taking pictures, Kodiak is for you.
We are longtime residents of Kodiak. Marion is an accomplished photographer and taught photography classes through the University of Alaska for 15 years. She continues to host photography workshops.
Marty was Kodiak's harbormaster for 20 years and his family roots in Kodiak date back to the 1930's. Lots of local knowledge, history and fun stories to share...
Discover Kodiak Destination Video